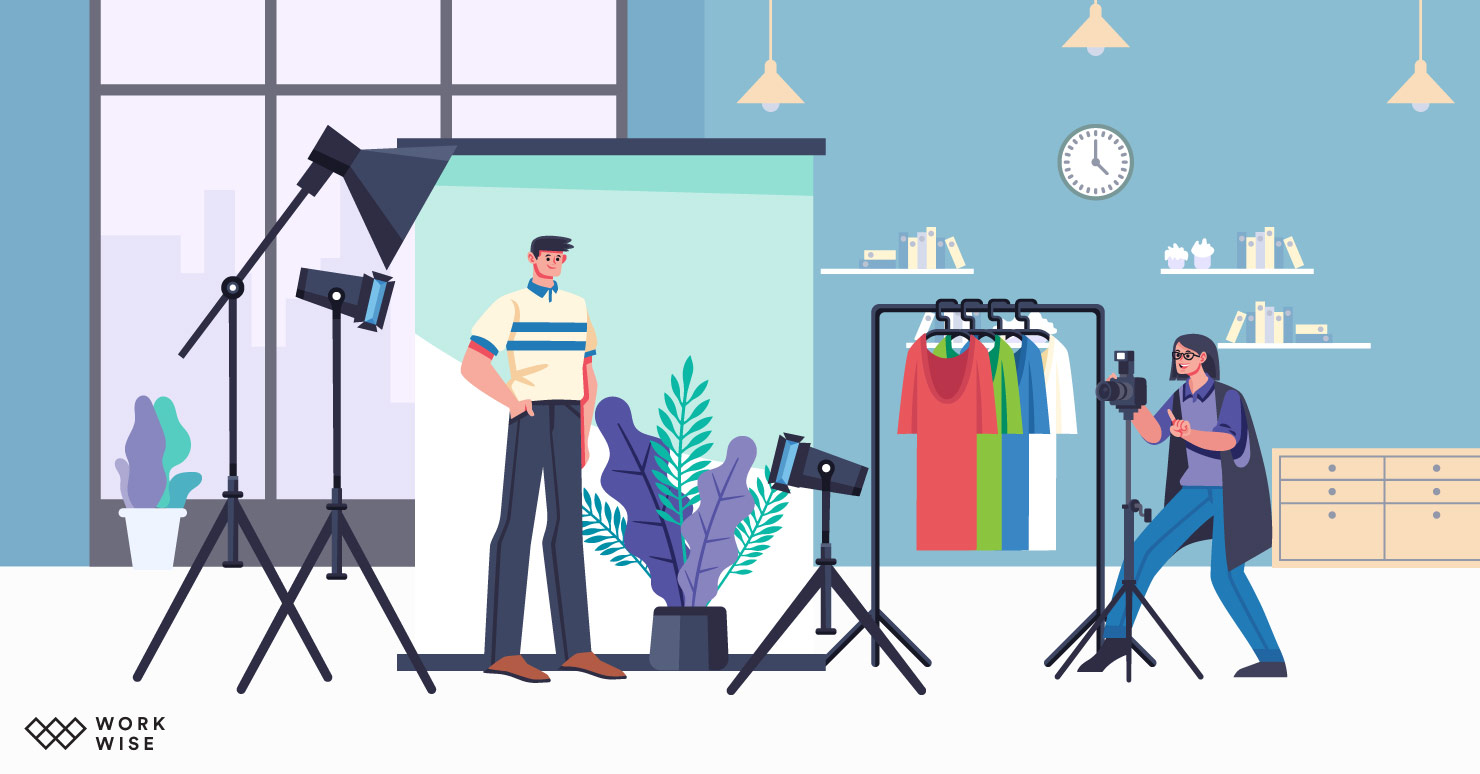 Looking for a Place for Events & Shoots? Here's Why a Coworking Space is The Best Option for You?
WorkWise has been shouting from the rooftops about the wonders of coworking in Mumbai for the past three years. And we can finally attest that Mumbaikars are now waking up to its true potential.
To be more honest, it is not just Mumbai but the whole of India which has slowly but surely realised that there is a much better, productive and enjoyable way of 'going to work' than boring beige offices.
Anyone who has co-worked or heard of shared workspaces, knows that they are great for remote workers, solopreneurs, start-ups and those who have been working for home. But sticking to this definition is limiting the versatility of coworking.
The current shared workplace is perfect for any business of any size and any niche. When you go searching, you'll find coworking places for creatives, shared workplace for techies, and coworking spaces for lawyers. FYI, WorkWise has a space for all of them!
What are we trying to get at? That coworking embraces everyone and everything.
Case in point: a shared workplace is an excellent venue for events and shoots. Let's discover why.
2 Underlying Considerations when Renting for Shoots or Events & How Coworking Space fits the Bill!
When you hunt for a venue to host an event, you look for two fundamental things: space and affordability.
1. It should be gorgeous with plenty of room
This is critical for any kind of event, but more so for a studio or marketing shoot. A vibrant space with a lot of popping colours means you save up on the effort, time and money to find a suitable background. If it also has large windows that allow natural sunlight to flow in, you don't have to struggle to find the right light and angle.
Anyone who has been in charge of an event or video shoot knows how much these features help in the long run.
Guess what coworking spaces have? Exceptional décor with bright bursts of colour and bay windows covering almost all sides of the floor. Yes, an entire floor, which means you have a really large space to spread out and click away to your heart's content.
2. It should be affordable!
If you're thinking –  it's Mumbai, how hard can it be to find a modern and sleek venue with open space? Then, stop. Yes, photo studios and event spaces are everywhere in the metropolis, but they all come with one caveat. They burn a hole in your pocket.
A beautifully designed studio in a prime locality will charge a boatload to rent—something not everyone can afford. Coworking spaces, on the other hand, are incredibly economical.
Why Rent WorkWise For Your Creative Projects?
Now that it is plenty clear that coworking spaces are the smart choice for events and shoots, let's discover why WorkWise is your best bet.
Spacious & Affordable
The Lower Parel centre of WorkWise alone has 10,000 square feet of space perched on the 16th floor of Kamala Mills! When compared to traditional spaces, renting our shared workplace for an event is a fraction of the cost.
Easily accessible
All WorkWise centres – Lower Parel, Andheri – are prime locations. They are well connected through rail, road and metro, making them easily accessible to even those who are from out of town.
All Facilities
While useful décor and ample space are the basic needs of a creative project, any other facilities are an added advantage. WorkWise areas have 24/7 access making early morning shoots as possible as late-night ones. We are also equipped with:
Business-grade Wi-Fi with a seamless connection to make uploading large images and video files a breeze from any corner of our centre.
Food and beverages for the whole team while they focus on the shoot or event. (Psst, our menu is customisable).
High tech AV system for all your fancy equipment.
Admin and housekeeping services for any nitty-gritty.
Printers to test out shots.
Parking.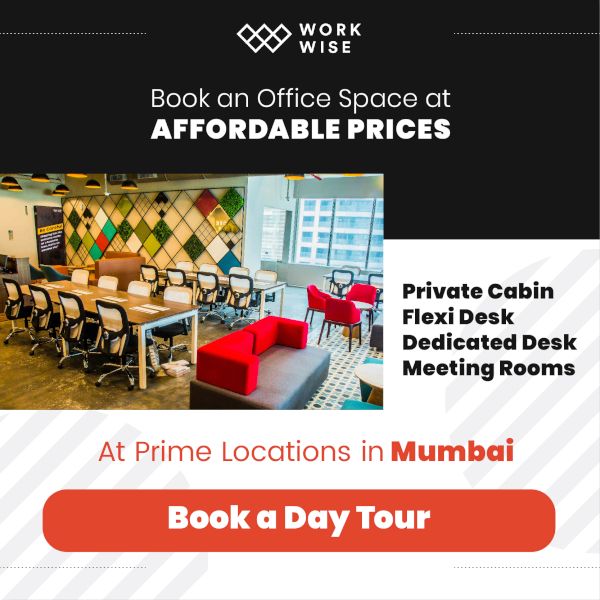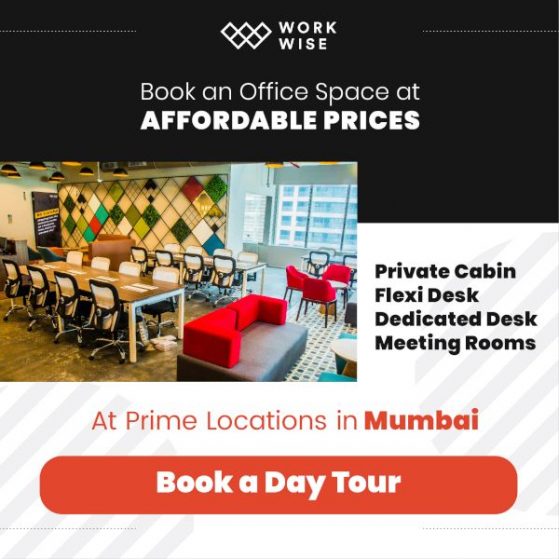 More Amenities
WorkWise goes a step further to make the coworking space suitable for your event. Our centres are transformable. You can customise the available setup as per your needs. The natural light from the bay windows covering three walls ensures that no matter which corner you choose for your creative project, it has that "golden light."
More than that, our meeting rooms and lounge area make for a brilliant backdrop for headshots and interviews. And while you are busy mingling with guests or getting that 'money shot,' we keep your stuff safe in lockers.
Any Event
WorkWise locations have a great mix of modern and traditional environments. Therefore, from a product launch to public ad shoot, from a private video shoot to an influencer marketing image shoot, we can accommodate any variety of events. With us, you can meet, collaborate and create through pop-up kiosks, activations, happy hours and more.
Coworking Spaces Are The Right Choice
Coworking spaces are designed with care and thoughtfulness to build a work environment that helps you reach the peak of productivity. An open-layout, break out areas to relax, bright colours like orange, red and yellow, spacious rooms and abundance of greenery are inherent parts of our shared workplaces.
These features bring many benefits to businesses and professionals, but when seen from the creative perspective, they are equally advantageous. The colours can be incorporated into the video or photo to give it a sublime vibrancy. Open spaces allow easy mingling during events, and the greenery is always a plus.
These are the reasons why coworking spaces in Mumbai are the right choice for brands, individuals and small businesses for ad, photoshoots, and hosting events.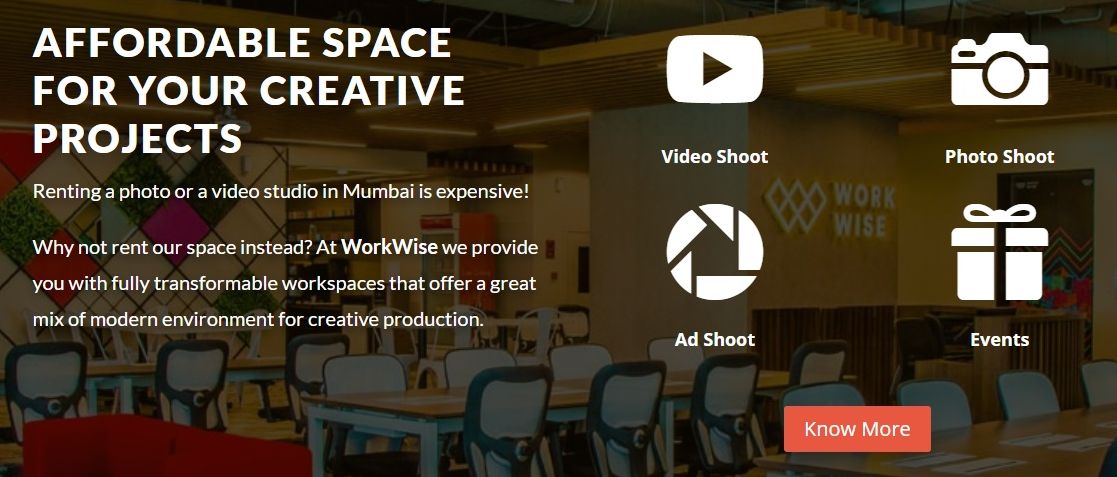 Still in two minds about it? Come take a look at any one of the WorkWise centres in Mumbai with a free day pass. We promise, as you exit our doors, it will be with the creative muse urging you to plan a shoot here!