Why Are Traditional Meeting Rooms Ineffective Now? And What Is The Alternative?
If you've worked in a traditional office, then you've attended a meeting. That's a given. What falls into the realm of uncertainty is the number of meetings you've participated in.
Harvard Business Review says an executive can "spend an average of nearly 23 hours a week" in meetings. That's almost a day and a boatload of meetings.
But, the topic of debate today is not the hours a professional spends in these meetings or if they are effective although research does point out that 65% of managers think meetings keep them from completing their own work.
The question we raise here is how useful are traditional meeting rooms.  The short answer is not much. Let's take a look at why it is so and what is the solution.
Why Are Traditional Meeting Rooms Not Productive?
When someone says meeting or conference room, what comes to your mind? A big table with formal chairs around it in a place that is greige (the annoying combination of grey and beige).  If you Google the term, you'll get a clear visual of it, and we bet one image will be more than enough to put you off.
So, it isn't a surprise that companies don't prefer traditional meeting rooms anymore. The reason for it is twofold. One, their dimensions are overwhelming. Two, they are not conducive to the natural flow of communication.
Typically, meeting rooms seat a lot of people as companies also use the same space for conferences. When just four people (or less) are conducting a meeting in a room made for 20 or more, it creates a distance between the attendees. Add to it an awkward, rectangular table and the exchange of ideas and eye contact becomes cumbersome. Ultimately, productivity suffers.
So, What Makes An Ideal Meeting Room?
It is these drawbacks of conventional meeting rooms that have led to a lot of conversations on how to run a meeting. Yet, most companies tend to ignore the central piece of the meeting experience – the room itself.  Its design can drastically alter the outcome of a meeting towards the positive.
A good meeting room design depends upon a few key factors:
What type of meetings will the room hold? A small team looking for collaboration needs a different space than a full board meeting.
Will the room be used for internal meetings alone or for clients too? The former can be a casual setup, but client-facing meeting rooms need a professional feel.
Does the room need a layout that gives added privacy? This becomes essential if the topic of discussion is a trade secret or confidential information.
In short, an efficient meeting room is one that is designed to facilitate better outcomes – to put everyone at ease, promote conversation and encourage creativity. Coworking spaces with their flexible design and integral approach to productivity satisfy all three key criteria.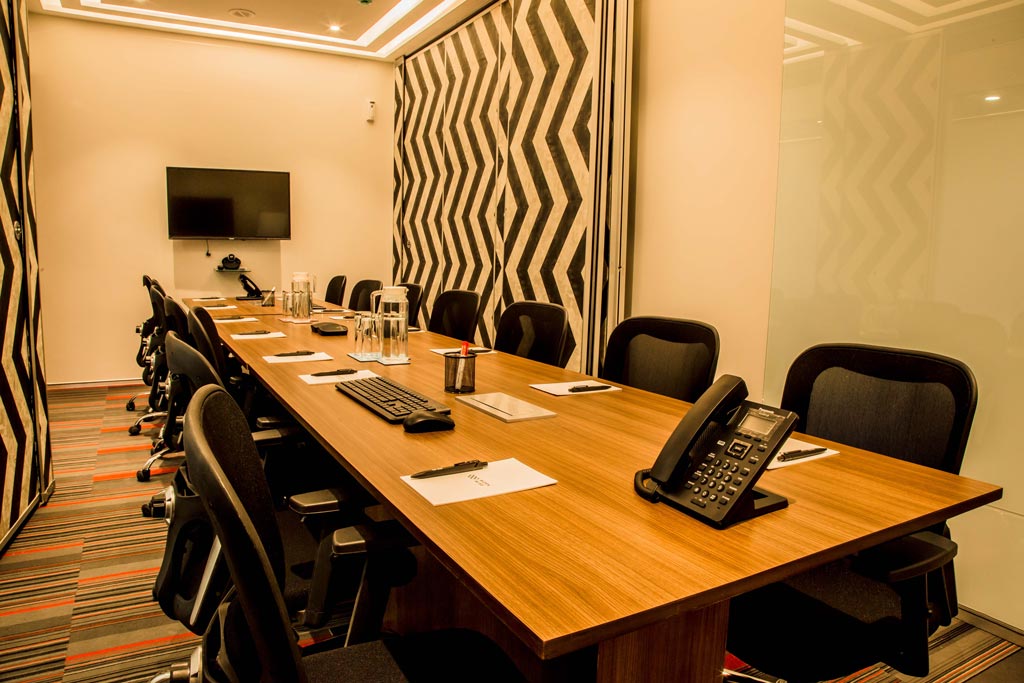 What Makes Meeting Rooms In Coworking Spaces Perfect For All Types Of Meetings?
One thing is probably clear by now – the greatest disadvantage of conventional meeting rooms is the size. Either they are too big or too small. Coworking spaces solve this problem completely. They have meeting rooms with different seating capacities. From a small, collaborative meeting of 4 to a bigger, executive meeting of 14, you'll find a room for every size.
The Flexible Setup
Meeting rooms in coworking spaces come with a setup that supports both in-house meetings and those with clients. For instance, the ergonomic chairs can be moved around the room quickly to look at one screen for a digital meeting.
The Technology
With the world becoming increasingly more mobile and digital, an essential part of all meetings is gadgets. For some meetings, a single TV screen is sufficient, while others require proper audio-visual equipment, especially when remote workers are joining in.
Coworking space meeting rooms come equipped with all communication devices you'd ever need. From high-quality cameras and microphones to teleconferencing lines, they have world class equipment to suit every conceivable need.
The Décor
If setup and technology are two pillars that make a meeting room useful, then the final component is the décor. A room that has soft lighting puts the attendees in a lazy mood. In comparison, harshly lit rooms result in lights glinting off gadget screens, making them hard to view or read.
Furthermore, different meetings have varying requirements. E.g. a meeting that calls for the use of a projector needs to be dark, while a meeting with a potential big client requires an impressive decor.
Meeting rooms in coworking spaces take care of each of these necessities, from professional décor that gives the best impression to clients to natural, bright lights to ease reading.
The Amenities
Pens, notepads, flip charts, markers and whiteboard are the basic things every meeting requires. Meeting rooms in shared workplaces come pre-equipped with these amenities, meaning you don't have to worry about arranging them!
You even get additional perks like complimentary beverages so that when the needle moves slow, a cup of coffee is at the ready to re-energise everyone.
Renting Meeting Room In Coworking Space For More Productivity
A recent article by Fast Company spoke about how big names in  Silicon Valley find meetings unproductive. An exec at Cisco feels, "We have the most ineffective meetings of any company I've ever seen."
But as the article says, meetings are the most universal part of business. There is no way around them. All you can do is change the space where they are held and make them more efficient.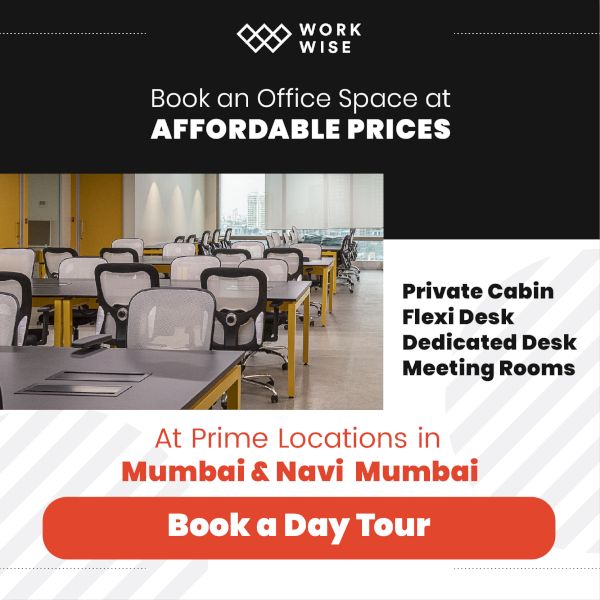 A coworking space allows you to do just that. Give WorkWise a shot, rent a meeting room and see what it has to offer!
With us, you get fully enclosed meeting rooms so that members on both sides of the walls don't disturb each other. The movable walls give you the freedom to adjust size and layout, i.e., you can accommodate any capacity of individuals!