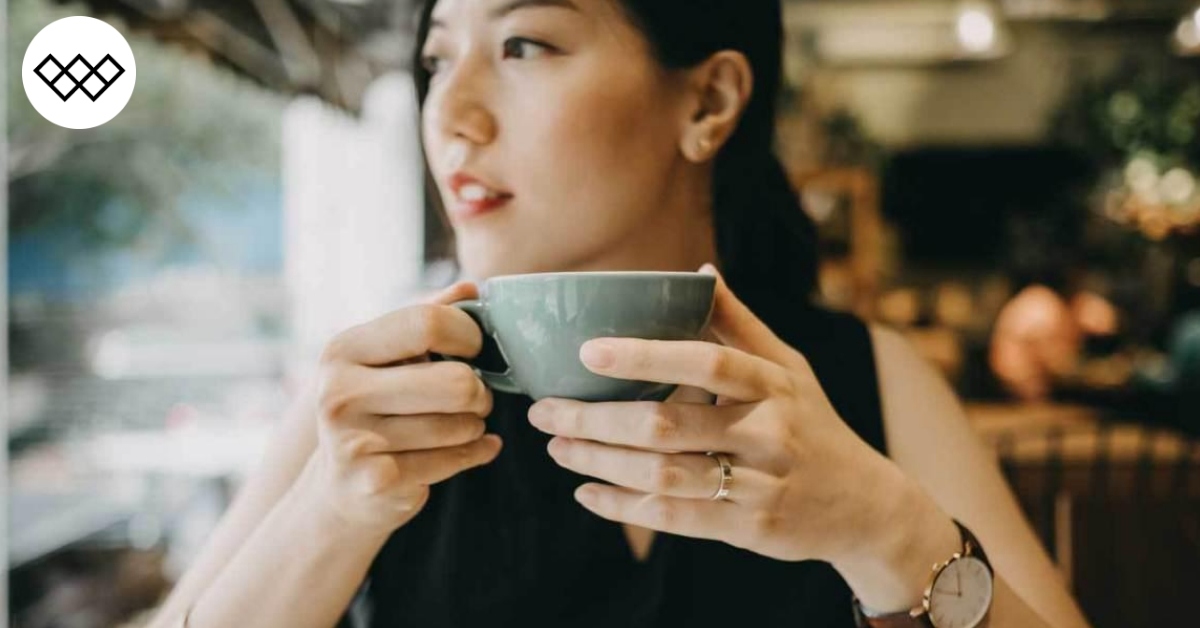 Why Coffee Is The 'Magic Bean Juice' That Your Workplace Needs!
According to research, a good cup of coffee can make their entire workday better, for 89% of office workers. That's hardly surprising, given that the caffeinated drink is pretty much the only thing that can get you through Mondays!
Coffee is not just another beverage in the workplace. It plays many other roles too. Let's take a look at how this 'magic bean juice' actually contributes to productivity at the workplace!
7 Ways In Which Workplace Coffee Helps Employees
Here's why a cup of coffee at the workplace should be taken seriously!
1. A Force Field Of Motivation
Imagine walking into the office on a Monday morning with a massive hangover? What's the one thing that can save you from having a terrible day? Coffee. It's liquid motivation.  
A cup of coffee can literally flick a button within that pushes you into 'active' mode. The delicious brew becomes a force field – something you look forward to in the morning, before being drawn into the rigours of work.
2. A Denier Of Slumps
Just as the clock strikes 2 pm, something makes you inexplicably sleepy and prone to daydreaming. In simpler words, this is called a slump. It's a given for any workplace. Coffee is the magic bean that keeps it at bay. Just one small cup is enough to boost the brain and stop that drowsy feeling in its tracks.
The magic lies in adenosine, a chemical that builds up during the day and makes you somnolent and sluggish. The caffeine in coffee blocks the impact of adenosine and revives you from the clutches of sleep.
If you are working in a coworking space, coffee combined with the 'openness' and buzzing energy of the workplace ensures that the slump can never claim you as its next victim!
3. A Dwindler Of Stress
As the workday and workweek progress, stress levels rise. The fundamental trick to bringing down pressure is by taking small breaks. Merely stepping away from the laptop screen (even if for a minute) has a significant impact. A coffee break with some of your coworkers can help you let off some steam! 
4. An Amplifier Of Willpower
Right from the moment you shut off the alarm, you're constantly making decisions. Each one depletes your willpower. (Is it why billionaires stick to wearing the same attire every day? One less decision to make?) When you are exhausted, the chances of making a wrong decision or a not-so-wise one may increase.
For situations when you can't wiggle out of taking important decisions and willpower is next to none, a cup of coffee helps. Let's say you've had a long day, and it ends with a critical decision-making meeting. Some coffee beforehand will give you the mental clarity required for the task at hand.
5. An Alleviator of Pain
This will sound familiar to people who sit long hours in the same spot for their work, i.e., knowledge workers. Continually sitting in the same place (and position) for a prolonged time leads to muscle pain. Some feel it in their hands, others in their neck and a few elsewhere. 
Research shows that coffee consumed before the workday starts, decreases the odds of developing such aches and pains!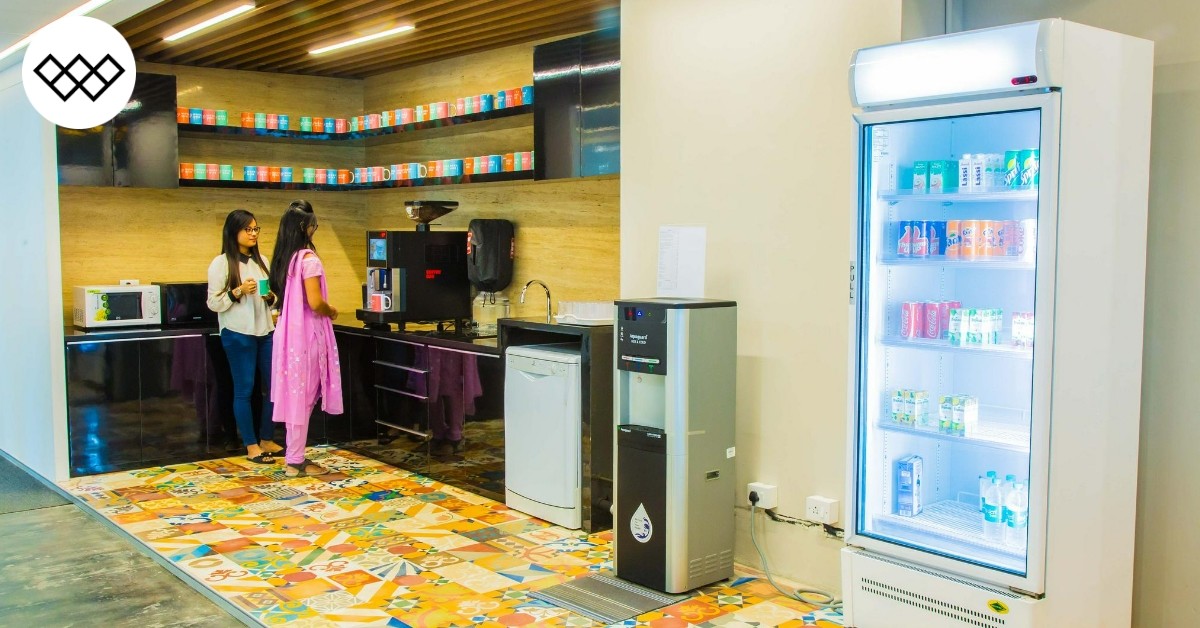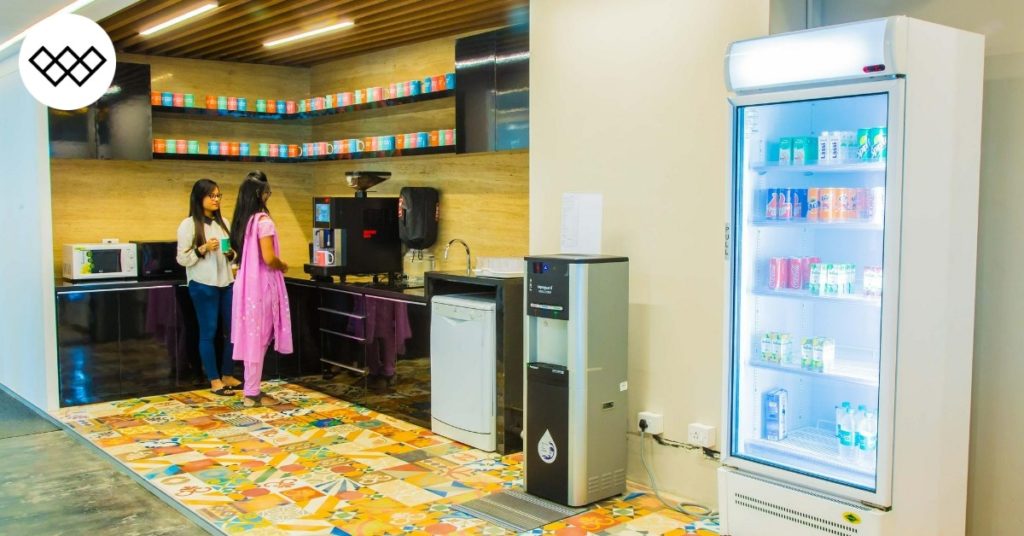 Coworking spaces usually take these factors into account while designing the space. A good one will have ergonomic furniture to make sure you don't end up with a work-related issue like carpal tunnel syndrome. 
6. The Water Cooler Of Choice 
In the good old days, colleagues stood around the water cooler to have a gab. It was the place for social bonding and pretty much where the concept of office culture originated. Today, the coffee machine has taken its place. It's over a cup of coffee that colleagues share social lives, build personal relationships, and lift each other's morale.
If you are lucky enough to work out of a coworking space, you will have a lounge area to settle in with a cup of coffee, and engage with other coworkers. After all, coworking spaces are known to be havens for networking – and coffee simply helps boost your enthusiasm for those conversations.
7. Winter Is Coming
We all know the misery of getting up for work on a cold winter morning. It takes every ounce of willpower you've got to go back to the warmth of your bed. On such days, a hot cup of coffee is manna from heaven. It warms the body instantly and enhances the mood. When you start work with a positive attitude, you perform better. 
Coffee Is Important, Nay Essential
The magic bean that is coffee has the power to knit people together. It encourages people to communicate with each other, build relationships, and also make important decisions. Much like coworking spaces. It adds a new zest for work, improves productivity, and makes networking easier too!
If you are looking for a coworking space in Mumbai, that offers open and private workspaces, ergonomic furniture, and a never-ending supply of coffee, get in touch with us at WorkWise!
PS: Tea-lovers, don't fret! While coffee is the preferred mood-lifter in most shared workplaces and offices, at WorkWise, we don't discriminate. For every heady coffee bean, we stack a calming tea bag.