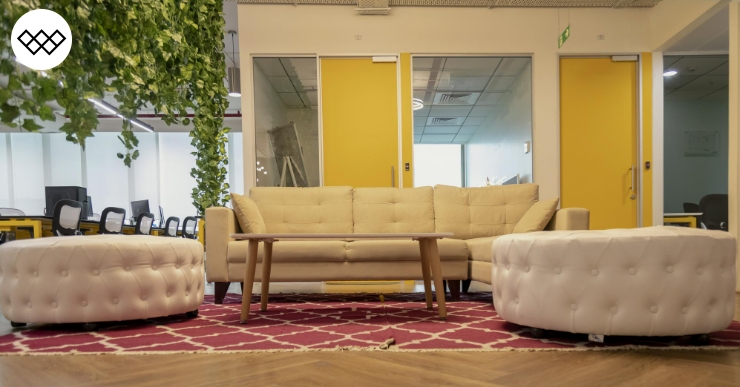 Here's How Coworking Spaces Are Redefining Employee Wellness
Employee wellness has gained a lot of popularity in corporate spaces over the past few years. It has now become a necessity, and something potential candidates look for when evaluating an organisation. Wellness initiatives are now executed, not just to reduce absenteeism owing to sickness, but also to keep employees healthy and happy. After all, employee happiness plays a significant role in the organisation's overall productivity!
Coworking spaces are redefining just how important employee wellness is by making it a core part of their design. We are talking about flexibility, adaptability, open spaces, natural light, ergonomic furniture, fitness programs, and everything else associated with ensuring that your employees are fit and at their productive best.
Navigating The World Of Wellness Through Coworking Spaces
Millennials are obsessed with health and fitness.  And this includes a healthy mind and body. Coworking spaces are tuned into this now basic need, and their inherent flexibility allows them to incorporate most elements of employee wellness into their very structure. Let's take a look at how coworking spaces are taking employee wellness to another level… 
1. Get Moving, In The Office
Nobody's meant to sit in a chair all day! Movement, or rather, active exercise is necessary to get the blood flowing to the brain. Being active boosts energy, increases alertness, sharpens concentration, and hones decision-making. 
Coworking spaces partner with fitness professionals to provide in-house wellness benefits. Activities like yoga and Zumba are conducted within the premises for employees to lose the excess weight resulting from a mostly sedentary lifestyle, take a break for mental rejuvenation, or just have some fun.  
We, at WorkWise, recently tied up with a renowned Zumba trainer, and held an on-floor class for members at our Lower Parel centre. The class was free, and such an instant hit that we've now scheduled one at our centre in Andheri too. 
2. Get Moving, Outside The Office
Another strategy coworking spaces are adopting to promote employee wellness is hosting off-site activities. By planning outdoor events like runs and bike rides, they give members a break from the monotony and head outside for some sunshine and fresh air.
3. Squeezing In A Workout, Regularly
While including a fitness class once in a while does improve productivity and motivation, it is not a permanent solution. This brings us to the second solution coworking spaces offer to take a more holistic approach to life and work: encouraging workouts.
Unlike conventional offices, flexible timings are all the rage at shared workplaces. It means, popping out to the gym for a quick 'sweat sesh' even in the middle of a workday is very much possible. Some coworking spaces include gyms in their facilities, while others provide discounts to local fitness centres — all in the hope of promoting wellness.
4. Eating Out, Healthy
Where do most employees eat their lunch? At their desk. Why? More often than not, it's because they are too rushed. With deadlines looming over their heads like the Sword of Damocles, they often don't have the time to head out for lunch. Lack of time also means choosing processed, junk food over healthier options. 
Coworking spaces solve this problem with simple solutions, like substituting sugary and fried edibles, with healthy, wholesome food. They often conduct workshops focused on healthy eating and nutrition. Additionally, they focus on providing unlimited access to water, juices, coffee, organic teas to reinforce the importance of staying hydrated!
Moreover, the central location of shared workspaces and chances are there is at least one eatery in the vicinity that offers wholesome sustenance.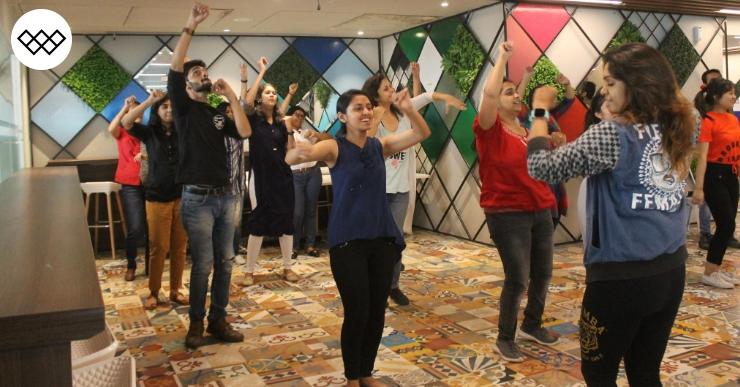 5. Design It, Right
As we said before, wellness is not restricted to shape. It is inclusive of the mind. Add into the bargain that wellness signifies different things to different employees, coworking spaces move beyond exercise and healthy food to keep members in top form. The space confined within the four walls of a shared workplace is conceived with employee wellness in mind.
Coworking areas are airy, bright, and welcoming

. Each room and segment is curated to create the right atmosphere and environment.

Even the quality of air is thought of because it impacts brain function. Moss, palms, and ferns dot the walls and floors (

biophilic design

) to keep the air refreshing and healthy.

Plants and bright colours are just the tip of the design iceberg. Big, bay windows

allow natural light to spill in and work its magic

.
Ergonomic furniture is another way to protect employees from the problems associated with sedentary jobs. Flexible options like height-adjustable standing desks and responsive chairs, sofas and seaters in the waiting areas, furniture made of noise-cancelling acoustic fabric, etc. are just some ideas to offer comfort and a healthy way of working to employees.
Design may seem inconsequential to health, but when you are trying to "om" your way out on a particularly harrowing day, it helps. In the long run, the ambiance of a place keeps the mind, soul, and body in a favourable balance.
The level of engagement of an unhealthy person is just about 7%, while in the case of a fit person, it's about 55%. A workplace that encourages wellness has 25% less sick leaves. Or at least that's what global research says.  All of them are reasons why coworking spaces promote health and consider it a priority.
Coworking spaces are diverse – they are home to freelancers, entrepreneurs, small enterprises, and the corporate behemoths too. Most of them need to put in long hours at work, and this can take a toll on them, not just physically, but also mentally. 
By keeping wellness at the core of their strategies, coworking spaces are quietly ensuring that the people who keep the organisations going don't burn out before their time!
If you are looking for a coworking space that's bright, spacious, and takes ergonomics and employee wellness very seriously, get in touch with us at WorkWise!