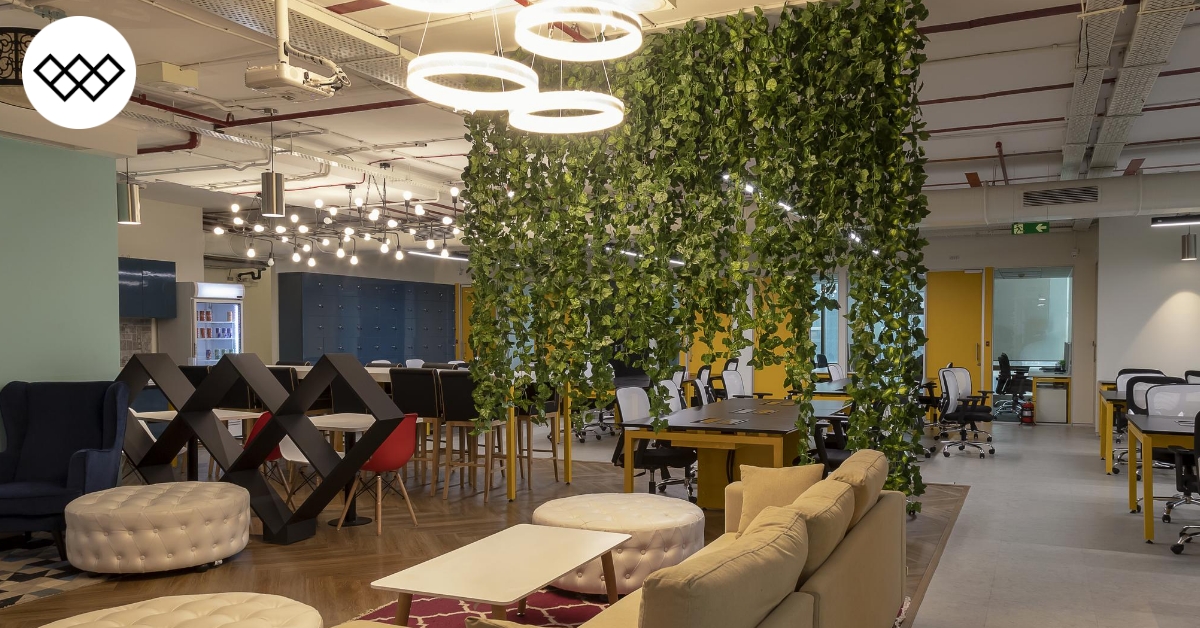 How The Design Of Coworking Spaces Influences Productivity… In A Positive Way!
A year or two ago more than 276,000 employees working in over 2100 companies were surveyed. 75.5% of them said that natural light made a workplace more effective. While the aim of the survey was to find the "key factors influencing workplace performance," what caught our eye was the design element. A whopping 85% of workers mention that design influences their work.
It isn't hard to conclude that the value attached to the layout of a workplace has become one of the major catalysts for the rise of coworking spaces. The very way in which shared workplaces are designed makes them conducive for efficiency.
Let's take a detailed look… 
Design And Productivity: The Correlation In Coworking Spaces
The intrinsic power of design is not new. It is not just the visual or functional impact – several studies corroborate that productivity levels soar when certain features are added to the workspace.
1. The Natural Light And Foliage
Beginning at the obvious point, biophilic design, i.e., tons of natural light and greenery is excellent at giving professionals a productive edge. Sweeping bay windows, like those found at every WorkWise centre, let in natural light that makes the mind more active (and happier). 
About a half a decade back, the University of Exeter found that plants upped productivity by 15% because the existence of plants improved air-quality, which raised the level of concentration and hence amplified work satisfaction.
Essentially, being surrounded by plants has three impacts:
 

It reduces stress.

 

It enhances cognition.

It unleashes ingenuity.
In short, plants cheer you up and get the creative juices flowing – two vital points to get the job done right. 
2. The Vibrant Colours
It is clear that biophilia makes us more fruitful. But is that all? Apparently not. Vibrant colours, graphics and artwork like murals are useful too. Décor, in bold shades, enlivens the workplace and keeps the workers motivated. 
It is why coworking spaces have splashes of red, pink, green and orange everywhere. The colours help members focus even on long days that seem to stretch endlessly. 
3. The Ergonomic Furniture
Greens to invigorate the space and colours to brighten the area are all well and good, but until a professional has the right chair, productivity plummets. Coworking spaces take care of this minute detail too. Every sofa and every adjustable chair is designed for your comfort. The ergonomic furniture of shared workplace ensures that nothing hinders your productivity, especially painful postures.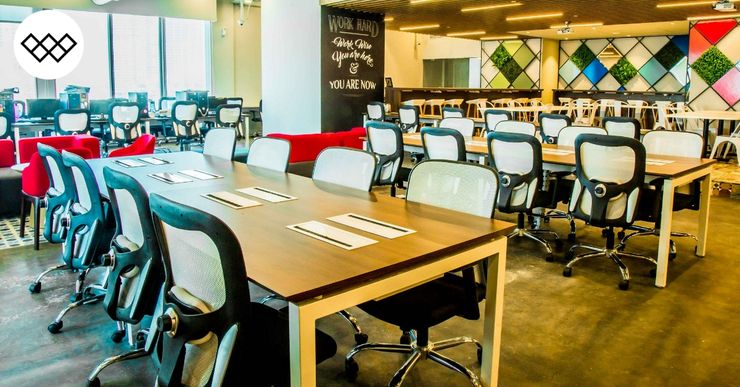 4. The Break Area
Once in a while to get back into the groove, an employee needs a break away from the screen. Even short five-minute gaps can promote productivity, health and well being. Isn't that why Google has climbing walls and lounge areas?
Coworking spaces are designed with this fact in mind. You might not find climbing walls here, but they come equipped with lounges where a member can take time away from work and return with a better and efficient frame of mind.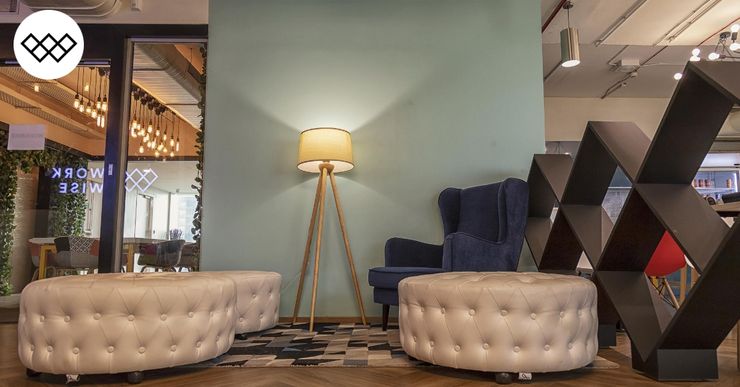 5. The Open Layout
Traditional offices are designed to fit in as many people as possible within given square feet. The cubicle design, while great for space utilisation, is not so beneficial for productivity. It makes employees feel hemmed in and clumsy. 
Coworking spaces are designed a little differently.  Care is taken to ensure each member has sufficient space, and the environment is favourable to collaboration, something essential to a shared workplace.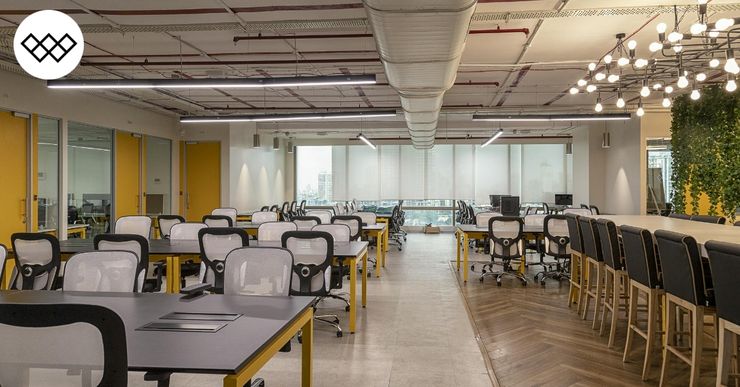 An open floor design is used to augment interaction between members and teams which, in turn, heightens creativity, productivity and collaboration.
6. The Closed Spaces
A workspace is an intermingling of an assortment of people. There are some professionals who function best in open layouts, and then there are others who prefer a more private corner. Coworking spaces are designed to straddle the thin line that balances open and closed spaces. 
They understand that concentration does play a part in productivity for specific tasks. For those jobs that require utmost focus, shared workplace have private offices and quiet zones. 
A coworking physical layout is such that finding enclosed sections is as feasible as finding a more social area. 
7. The Sense Of Community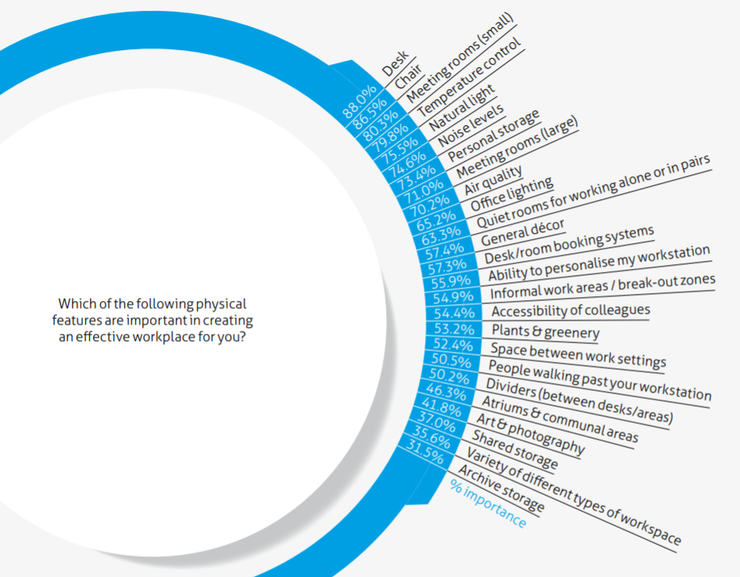 Until now, the attention has been on physical or aesthetic aspects of design. But creating a workspace that nurtures output is about much more. As important as the layout is to efficiency, equally crucial are the people who make the workplace.
It is here coworking spaces stand apart. The entire community of the place is designed to strengthen and intensify creativity. The intensely collaborative atmosphere is designed to improve work and output. From members helping each other out to community managers taking care of everyday tasks, a shared workplace strives towards greater productivity.
In Conclusion…
A person spends a majority of their time inside a workplace. How it looks, how it is designed, which furniture is used, everything matters. From the paint on the walls to the person sitting next to you, no detail is insignificant. Conventional offices do not recognise this irrefutable fact.
Coworking spaces, on the other hand, know that space and the emotion it evokes factor crucially in one's work life. No wonder shared workplaces are designed to incorporate every facet that contributes to the satisfaction, productivity and fitness of a member.
If you glance through the report linked right at the start of the article or take a gander at the image above, you'll notice something. Almost every physical element the surveyors said was important in making a workplace effective is present in a coworking space.
Do you need more proof to demonstrate that shared workplaces amplify productiveness?
For coworking spaces in Mumbai, get in touch with us at WorkWise today!