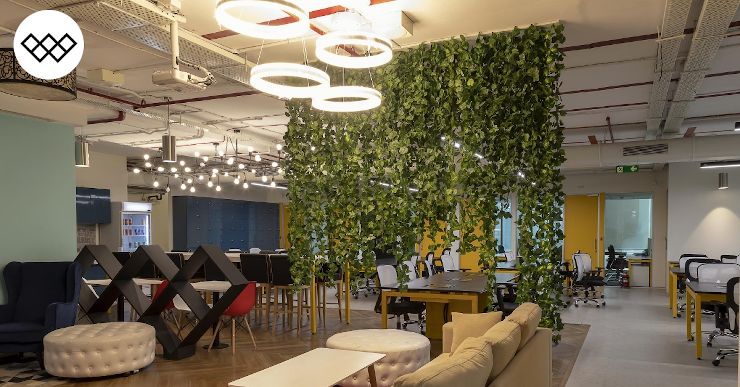 Why Working In A Coworking Space In Andheri Is AWESOME!
People no longer need a definition of coworking or a list of benefits shared workplaces offer. Every manager, freelancer and entrepreneur knows coworking spaces are the offices of the future.
What needs a better explanation is how these spaces itself, and more importantly the location transform the entire experience.
With that thought in mind, here's a walkthrough of why taking up a coworking space in Andheri is a really awesome idea.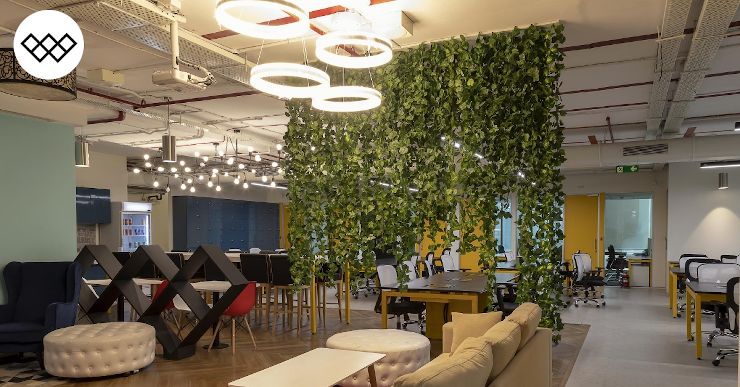 Coworking Space In Andheri, Mumbai: Your Takeaway
A great, central location as Andheri not only stamps the business with a professional and reliable image but also gives it access to neighbourhood conveniences. Smack dab in the middle of restaurants and top-quality eateries, finding a place for a quick client lunch is easy.
Also being well-connected by the Andheri metro, it becomes easier for people to reach your business – clients and employees alike.
However, there is a common concern when finding an office space in Andheri… the prices!
Being a popular suburb and soaring real-estate prices, finding an office in Andheri…in a high-quality building is next to impossible for individuals, start-ups or small businesses. The budget just doesn't allow it. 
Well, that is only if you haven't heard of coworking spaces by WorkWise in Andheri!
Coworking spaces by WorkWise make a lot of sense, especially in a prime location like Andheri. You just pay for what you want – a few seats, a small private cabin or a row of dedicated desks… you can pick the perfect space, all within your budget. 
And the best part is you don't just get a workspace, you get a managed office, complete with a cafeteria, 24/7 access, high-speed internet, photocopier machines, meeting rooms, the works!
A Creative Space
With the Andheri centre, you get a space that befits your work style. If a quiet nook makes you more productive, then you can find one here. If it's a sofa in the middle of a lounge that makes you more creative, then you can find that too. The coworking space has a solution for any personality and style of work. Within one roof, every member of a team can find a corner that suits them!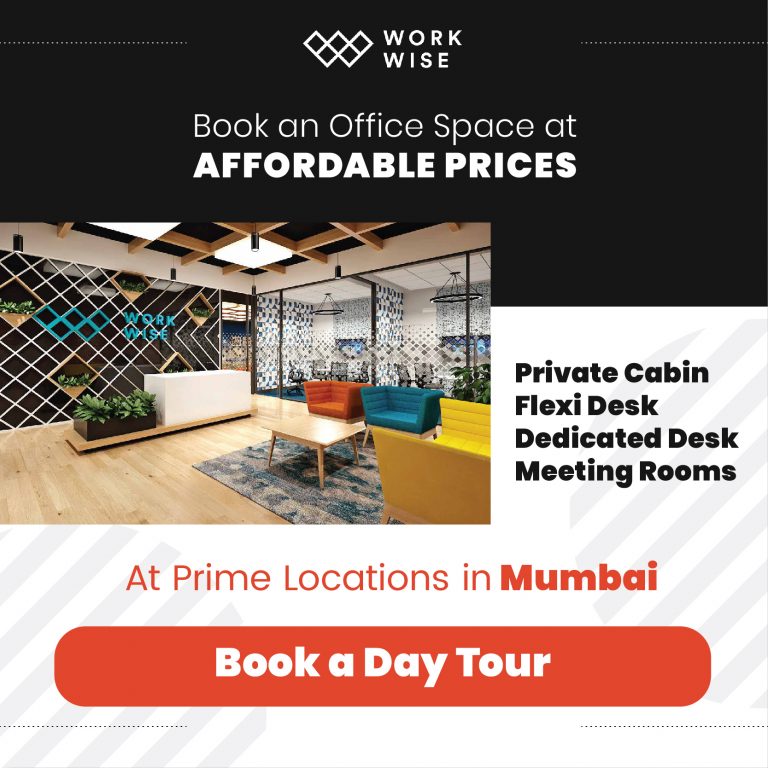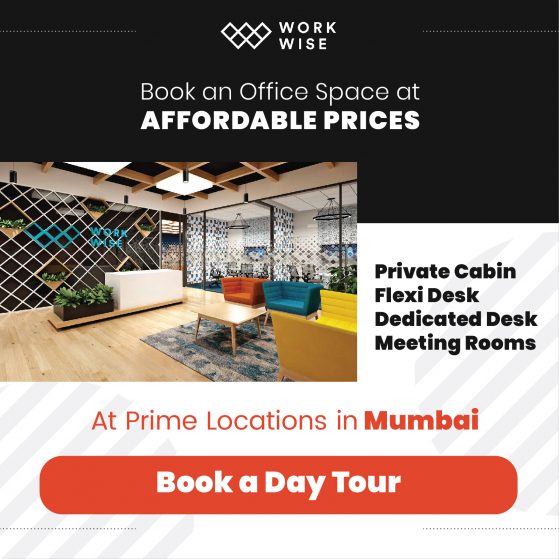 A Space For Community
Inside our shared workplace in Andheri, the words 'I know someone' are commonly heard. When you work out of a close-knit community, you create connections that aren't possible when working from home or a traditional office.
Within a hand's length, you can find a financial expert as easily as you can find a graphic artist. The network of contacts you get access to is just priceless!
A Collaborative Space
The community within WorkWise Andheri offers tremendous chances of collaboration, but the scope extends beyond that. The chances of gaining new business or finding the right talent increase because Andheri is home to numerous creative minds and companies.
Collaboration is not limited to the people you meet in the coworking space, but also around it.
A Space Of Flexibility
Our coworking centre in Andheri is one of the few places that is open 24/7. It allows members to have complete control over their work hours – a flexibility standard offices don't provide. You get the choice to work beyond the set 9 to 5 hours. 
The elasticity to stretch work-hours comes in handy when you have other obligations during the day or are managing a team that sits in another time zone. 
A Scalable Space
Conventional leases lock you into contracts for extended periods, which means losing valuable financial resources if you have to downsize or grow. At the WorkWise's shared workplace in Andheri, you can rent as many desks (hot or dedicated) as you wish on a monthly basis.
Need a more private space for a new team? Rent a private office at the centre. All in all, your business never outgrows the place.
A Space Full Of Amenities
About 7000 sq.ft of open, vibrant space, the very fabric of our coworking centre at Andheri, Mumbai is made to enhance productivity. From the biophilic design to the community manager, every aspect of the shared workspace is created to ensure your work is always top-notch.
Brightly lit for the creative souls and open-planned for the collaborative ones, every care is taken to accommodate members. The latest AV systems, ergonomic chairs and meeting rooms are merely the tip of the iceberg. Parking, concierge services and complimentary beverages are some more.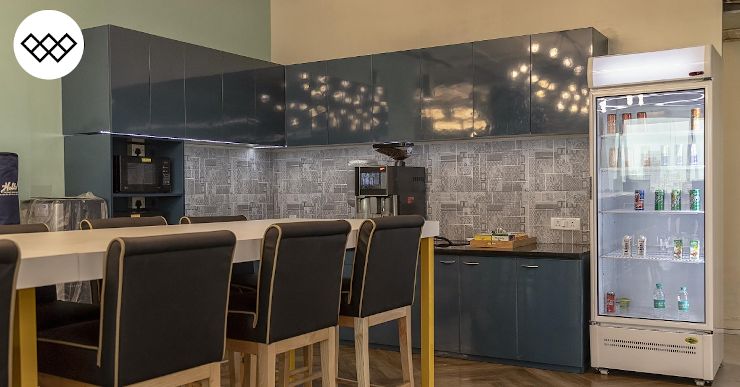 A Learning Space
A decent coworking space in Mumbai provides you with a physical location to work. An awesome coworking place offers a space to learn and socialise. The WorkWise centre Andheri does precisely that. More than a place where you go to work, it is a living community that holds events and workshops on a myriad of topics.
As part of the shared working space, you acquire new skills and improve upon the existing ones. From presentation training to launch parties, the Andheri centre hosts everything under the sun. Not to leave social events behind; brunches, yoga sessions, Zumba classes and happy hours are part and parcel of WorkWise word-day
A Space For Accountability
Being self-employed comes with a bucket-full of challenges. One of the hardest is keeping an account of time and money. A founder or a freelancer, who is answerable only to themselves, discovers that every day the motivation to meet expectations and standards decreases.
Working out of a coworking space eradicates this issue. Because you are surrounded by driven people at the Andheri centre, they inspire you to perform your best not just on the good days but those filled with entrepreneurial adversities. Moreover, as you are renting a space (even if it's completely affordable), you are motivated to keep track of time and expenses. In brief, the shared workplace makes you more accountable and thus better works
The Feel-Good Atmosphere!
Without a speck of speculation, coworking spaces are filled with a feel-good atmosphere that cocoon people in a nurturing way. The location of the shared workplace just becomes the cherry on the cake. With WorkWise Andheri, you get the complete package. It offers a community that lets you thrive, professionally and a neighbourhood that enables you to balance work-life.
Searching For A Coworking Space In Mumbai? Andheri is The Answer!
The Lotus Business Park in Andheri (W) is among the go-to place for work in Mumbai these days. With every essential facility (and more) within and outside the park, it is the quintessential place to boost business. By choosing WorkWise Andheri, you get access to this great location and the fostering community of a shared work place!
If Andheri is not your cup of Earl Grey, then WorkWise has coworking spaces in Lower Parel and Vashi too. To know more, head here!